We go the extra mile to get your dogs to smile !
Happy Dogs Grooming is a premium grooming salon, passionately operated by pet lovers who are skilled professionals dedicated to the care of your pets. We focus on your dog's appearance but most importantly on its well-being. We strongly believe that a healthy pet benefits from regular grooming.
We are committed to a high level of care and our culture has always been to provide over-the-top service. Our Happy Dogs Team is like a caring family, willing to do whatever it takes to help you and your pet, achieve a wonderful experience and become a little happier. We specialize in pet cuts for all breeds.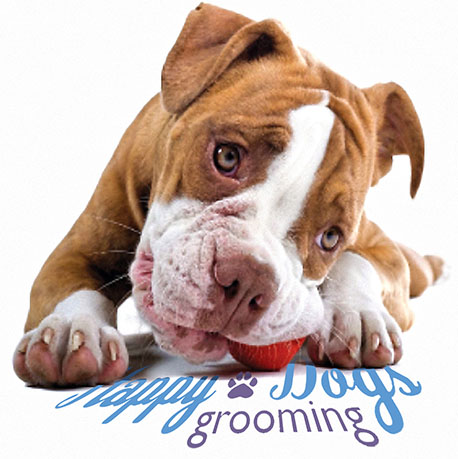 OUR GOAL is to share our ever-expanding knowledge with our pet parents about the overall well-being of their pets and building long-term relationships while sharing the HAPPINESS with all of our customers and furry friends.
Check out our current and upcoming promotions!
Envy of their canine friends
"Happened by chance 

– a positive experience

"
reviewed:  Sep 16/16
My name is Melanie and I am a client of Happy  Dogs Grooming.  It all happened by chance.  I was looking for a dog groomer on Google and came across Happy Dogs Grooming.  I thought, ok this place is convenient as it is close so I am going to give it a try; I haven't looked back since.  I foster rescued dogs, and some of the dogs I have fostered have come to me not only smelling, but covered in unmentionable things.  I have called Justin and Nicole in a panic a number of times asking if I could come in right away with a couple of dogs.  Never have I been turned away.  Happy Dogs has gone above and beyond on many levels for my convenience.  A foster dog that I adopted is a very skittish girl.  When I bring her to the vet or to get her nails trimmed she completely shuts down.  Telling this to Nicole and Justin, they came up with the idea that when I come in to get her groomed that I come at the end of the day so that I can stay and they can focus only on her.  On our first visit I knew that I would never go anywhere else bc of the attention they gave my girl.  Justin lied on the floor with her and spent time just petting her and talking calmly to her.  He let her smell the brush for quit some time, brushed her, then allowed her to smell the brush again. The gentle and calm presence the groomers bring sets the tone for the animals, and to me that is extremely important. 
Thank you for all that your team does
Melanie & Pangu
"My dog Sara"
• 
Reviewed 26 September 2016
Jane & Sara
Don't Be Shy
Drop us a line anytime, we'd love to hear from you so we can improve or discover what you really like about us.
Email
---